Humanistic Spirituality is a contemplative and provocative series of spiritual wellness, teachings and practices for leading a more grounded and fulfilling life. It integrates the benefits, and illuminates the dangers, inherent in both psychology and spirituality.
The mission of Humanistic Spirituality is to inspire purposeful living and compassion for our human condition through contemplative practices for self-transformation.
Wendy Sue works directly with the Founder of Humanistic Spirituality, Robert Strock.  She is honored to be employed by a true Humanitarian with a huge heart.  Please click here to read Wendy Sue's intimate interview of Robert Strock.
As Wendy Sue's flagship "Social Media with a Conscience" client since January 2013, she is responsible for growing and engaging both their Twitter and Facebook communities, reaching over 15K total outreach.
Wendy Sue also publishes regular blogs, and uploads Guided Meditations on YouTube.  She uses the Google ads to advertise particular YouTube meditations, as well as create Facebook ads.
One of Wendy Sue's favorite tasks is to go through and synthesize Robert's notes and transcripts from his workshops, and translate them into accessible tweets and blog posts.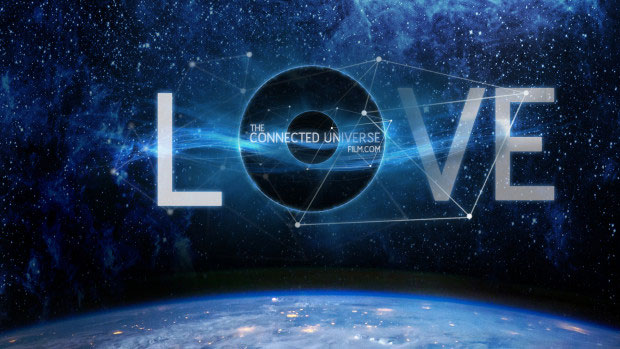 The Connected Universe is a documentary film coming soon that explores new understandings in scientific theory that reveal a bigger picture of interconnection than we have ever imagined. For example, the first time that we looked back at Earth from space … humanity was changed forever.  When we changed our perspective (by rising above all the barriers and separations in our world), we could more easily see the Earth as one interconnected system… ONE planet, ONE home. There was a conscious shift in our understanding of the interconnected "butterfly effect" where each action in one part of the world would create a reaction somewhere else in the world.  This film makes connections on a universal scale.
When you begin to truly see and understand how THE Universe is interconnected, YOUR Universe begins to expand and you begin to more deeply feel the connections that are all around you.
With Malcom Carter as the fearless Director and featuring Nassim Haramein, the Director of Research at the Resonance Foundation, this will be a film that you will not want to miss!
Wendy Sue Noah along with Lisa Papp of PracticalGratitude.com partnered on the Twitter Social Media Management. They were responsible for building and engagement of The Connected Universe Twitter community and were a part of the stupendous success in reaching over $285 K on the Indiegogo crowdfunding campaign! Indiegogo awarded the campaign "In Demand" status ("forever funding" so people can continue to donate) due to the incredible results of the campaign as it is now the largest documentary film crowdfunded in history on their platform!

Wendy Sue is thrilled to be a part of the DailyNerve (all the news you can solve) start-up, an idea market for the news.
We have one simple goal. We want to find ingenious solutions for common problems that plague people on both a local and a global level, and we want to utilize crowd sourcing to do it. That means getting those ideas out of YOUR head, and into reality.
We believe your ideas and platform can help people. Not just people, the entire world. We believe collectively we can solve the problems of the world. But we need you. Idea people, writers and readers alike. So start your neurons. Remember a better idea is always coming up with a better idea.
Nerve On!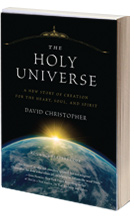 David Christopher is a 2014 Nautilus Book Award Winner and an insightful and thought-provoking author and teacher of the "new story," a story that integrates the science of the 20th and 21st centuries with a spiritual sensibility toward the creation of the Universe.  David has written a celebrated book that translates the cold scientific facts of the Universe into a soulful story of creation that honors and explores the mysteries of the Universe—but also confronts the challenges humanity faces in a way that brings deeper understanding to why and how our Modern Mind is driving us to do so much damage to the planet.  It explores how a new world view, or a new "Mind," is emerging—and how it can help us through this Great Transformation.
Wendy Sue is greatly honored to represent this "modern-day sage", David Christopher, in social media, with Twitter and Facebook as a primary focus, as well as providing overall support to his marketing and business development plan for bringing "The Holy Universe" to the world at large, so to provide a platform of Unity and collaboration through the power of the book.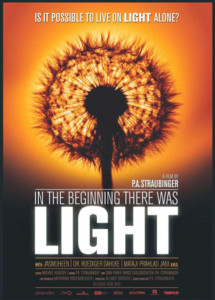 With social media, there are no geographical boundaries, and so welcome her Austrian client, the director of the captivating documentary, "IN THE BEGINNING THERE WAS LIGHT ", Peter-Arthur Straubinger.
"IN THE BEGINNING THERE WAS LIGHT" (or "The Light" documentary) follows the phenomenon of human beings who allegedly can survive without food and fluid, over weeks, years and even decades.
As incredible as it may seem, the Light documentary provides certified reports of personal experiences, interviews and scientifically documented laboratory experiments as evidence that there are people living today who do not need food either to live or to sustain their metabolism! They live on "light" alone. Depending on the tradition this "light" may be called PRANA, CHI or ORGON.
The movie did so well in Europe that Peter decided to narrate the film with his own voice and has now made it available to all through video streaming. Just click here and watch this fascinating film for yourself!
Click here to enjoy my blog interview of Peter, and learn more about his decade long research and dedication in making this fascinating documentary.
Wendy Sue has been hired to introduce "The Light" documentary to the U.S. market, through the use of social media.  She uses Facebook and Twitter and YouTube to engage communities and individuals, as well as sends personal invitations to Opinion Leaders on LinkedIn, to view the film complimentary and help spread the word.  Peter and Wendy also have weekly video Skype meetings to discuss stratetgy and business development opportunities.
Wendy Sue also works closely with Peter in translating his German English into American English, playing the role of Editor for his web site.
The CyberHero League (CHL) is an interactive transmedia adventure game for CYBERHEROES: "People who use digital technology to help people, animals and the planet".  In other words, the 'CyberHero' is the antithesis of the cyberbully.
How does this work?  The game uses the power of wireless technology to enable players to cross seamlessly between the real world and the game world. Instead of earning fake badges, players win the right to display the badges of real nonprofit organizations they've apprenticed with during game play. Game play results in the contribution of charitable items to the game's nonprofit partners.
Wendy Sue works directly with the Founder of the CyberHero League, Dana Klisanin, an award-winning psychologist committed to exploring and designing media & interactive technologies that encourage people to live consciously.
Wendy Sue was hired to assist CHL with their crowdfunding campaign on indiegogo, where she was the Media contact, and the Social Media maven.  They successfully raised $32,572!  Through the use of several social networks, like Twitter, Facebook and LinkedIn, Wendy Sue spread the good news of the campaign to focused communities, like parents, gamers, and environmentalists, as well as recruited a Video Game Designer to join the team.
Pro Bono with a Conscience