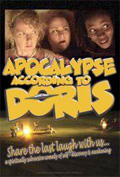 Meet fascinating indie film directors' from the Cinema Noēsis Film Festival
Like transformative indie films? Me, too! I've always enjoyed any medium or conversation that takes me out of the box and into the limitless realm of possibility.  So as you can imagine, it has been an honor to be the social media arm behind the up-coming Cinema Noēsis: IONS (Institute of Noetic Sciences) 2013 Film Event
The movie lineup is guaranteed to open your mind and expand your consciousness to new levels of understanding and appreciating the mysteries of life.
What really hit me in my work here, though, is the strong passion and commitment driving the directors of these provocative, inspirational movies. So I picked the brains of a few of these remarkable people to introduce you to the great minds behind the films. But first I want to present the man who created this unique event for us, Festival Director (and former editor of Shift magazine) Matthew Gilbert.

"Matthew," I asked, "why do you have such a deep passion for indie movies"?

"First of all, I love the originality of them and their focus on people and topics and issues that don't get much coverage anywhere else. I get especially excited when they address subjects that are close to my heart and my spirit, for example, ecological wisdom, frontier science, human potential, and spiritual transformation.

(Now I fully understand why Matthew chose the films, as they all contain at least one of these examples.)

"I easily surrender to good storytelling on the screen," he continued, "to being swallowed up by the images and the dialogue and the tensions and those unexpected moments when something happens that takes me 'out of the box' of my conditioned thinking.

"Indie filmmakers take risks. They go places that most of us will never see, and what they bring back has changed my world."

Like to take risks and go to places you've never been before? There are still a few tickets left, just waiting for you to click here…

Are you titillated yet? Great! It just gets better. Please allow me to introduce Peter-Arthur Straubinger, the director of In the Beginning There Was Light, a film about "breatharianism." What is that, exactly? I'll let Peter explain.
"What inspired you to make this film about Breatharianism?"
"Actually, In the Beginning, There Was Light only touches upon the surface of 'breatharianism.' It was really about questioning the materialistic worldview that it's only real if you can prove it or see it. I could have made this film with the same message about telepathy, faith healing, or homeopathy.
"The reason why breatharianism became my chosen golden thread and message was due to a visit with a meditation teacher who I was told lived only on water and 'light.'
"I got to know him quite well, and he told me that he had not eaten for over a year, that he only drank water. I'd heard stories about this phenomenon before but did not really believe it. But meeting a person face to face had a much stronger impact!
"He sounded very credible, but I asked myself, if this phenomenon really exists, why isn't it taken seriously by scientific institutions? Why aren't dozens of universities doing research on this?"
Now that is an excellent question, don't you think? How much is going on that is NOT being studied due to scientists and others stating, matter-of-factly, "That's impossible"!
"So this tension was the reason why I've been doing my own research for nearly five years. Through this, I discovered a lot of good arguments by classical medicine as to why this should not work, how people starve every day and others died trying to live as breatharians.
"However, there are many records about this phenomenon in all cultures, throughout all times, and of course my Austrian friend who was living and breathing proof (pun intended ;).
"I decided to seek first-hand information about this fascinating phenomenon and started my five-year journey, travelling around the world to China, India, Russia, the U.S., and many other countries. And I discovered some incredible knowledge, from ancient Eastern wisdom to the findings of modern physics…"
You've got to come see the movie and meet Peter in person to find out for yourself, just click here!
Since indie films are produced with deep passion to share deep messages, my follow-up question to Peter was, "How does the theme of your film affect your real life?"
"I understood that mainstream science and the teachings I learned in school about nature are only a part of truth. They derive only from (materialistic) belief systems and it is necessary to question them because what made sense a few hundred years ago is now destroying our world and is a burden to creating an open, loving, and cooperative society…."
Anyone want to join me here in, like, Wow! Well said and a valid point we all should take to heart: Time to open our minds, to open our hearts, to go beyond what is dished out to us as "the truth."
A picture of Peter & I at the film festival


Which leads to my interview with Victor Goss, the pioneering founder of Starving Film Students and director of Apocalypse, According To Doris, the only fiction movie on the Cinema Noesis program.
"Victor, what inspired you to make this film?"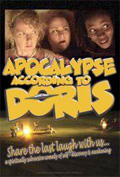 "I started out with a vague sense of writing about a woman with limited education and cultural support who had involuntary psychic experiences. I wanted to investigate what her psychic life experiences might be like, such as where they came from, what they meant, and if they had any potential value to humans.

"And I wanted to stage this discussion because I wanted to hear what others thought about it."

Oh, yes, you've got to love indie movies, always striving to make a point to discuss, digest, or contemplate in some fashion.

"But also, I had an axe to grind. I wanted to dip my toe into the water of mysterious events ignored by the powers that be and the mainstream media, which has let us down by falling prey to monopolistic corporate motivations and by its subtle, constant need to create an agitation and a reactionary, fearful state in their audiences.

Audience = the mainstream population who choose to live in this reactionary, fearful place and the media that chooses themes to keep audiences in this deplorable state. "Ain't nobody got time for that!" Especially now…

"I wanted to peel back questions about this "Apocalypse" meme that swept the New Age world. I wanted to talk about the fallacies of all religion, for that matter. I kept wondering when we were going to talk about the TEN ELEPHANTS in the room we are not supposed to see.

Is he referring to the TEN PURPLE ELEPHANTS in the room? I don't see them, do you?!

"But additionally, in the realm of science, I wanted to ask questions about our physical world that belies what we are taught about reality. I wanted us to ask, 'What are psychic events? Is human consciousness on the cusp of awakening? Is there a direct form of obtaining knowledge?'

"However, in a simple sentence to explain my motive for making this film, I always must remember the words of the prolific and famous French director, Claude Chabrol, who said, "A woman is subject matter enough."

I must agree with that quote! "Victor, please share with our readers how the theme of your film affects your real life?"

"Oddly enough, after living in Los Angeles most of my life, I suddenly looked around and realized I had moved to Ojai, to a street and house that looks remarkably the same as the one Doris lives in in the movie! Turns out that my next door neighbor is a famous channel, and we have become the best of friends!

"On a personal level, although there was nothing autobiographical about 
Apocalypse, According To Doris,
 I constantly find myself repeating lines Doris said in the movie without realizing it. It's always good for a self-deprecating laugh, because the words usually fit the situation. Maybe I'm becoming Doris, but I haven't bought any Victoria's Secret underwear yet…"

I bet his wife is happy about that… 😉

Come join us, not only to be thoroughly entertained by the movies Festival Director Matthew Gilbert hand-selected for consciously expansive entertainment but to share the company of those interviewed above and many other fans and innovators in this magical world of transformative filmmaking!

There are a few spaces left at the Cinema Noēsis: IONS 2013 Film Event ~ see you there!
http://wendysuenoah.com/wp-content/uploads/2013/11/apocalypse+doris.jpg
177
120
Wendy Sue Noah
http://wendysuenoah.com/wp-content/uploads/2013/11/logo_280.png
Wendy Sue Noah
2013-06-28 05:02:00
2014-01-10 03:22:02
Meet fascinating indie film directors' from the Cinema Noēsis Film Festival