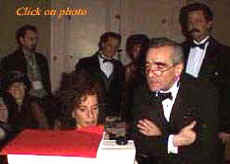 Professional Opportunities are waiting for YOU!
Hello my friend!This video above is one of me and Martin Scorsese, at a Hollywood party back in 1997, where he was being recognized as the very talented Director that he is (at an AFI event), and I was totally blessed to be a part of the webcast team who put this party on the Internet, AND to be the one to introduce Martin to the Internet, by reading him his fan email and showing him his fan's web sites in honor of him!How did I land there, you wonder?  Well, two very close friends of mine had a webcast business, and were hired to do this event.  While hanging out with them in their living room, they spontaneously invited me to join them, as they needed additional help in which I had the skills for.  Sure the $$ was small, but the experience was HUGE!
I want to start here to reveal the point of this blog entry, that anything is possible, that spreading your professional (and personal) horizons is really in your hands!  Really!  Really!Let's look at this dim marketplace, bad economy, etc., etc.  Getting a full-time professional office job is, well, let's say, outdated… Sure, they are out there, and if that is what YOU really want, then keep knocking at those doors.In the meantime, let's open up our mind and hearts and venture out of our comfort "what would be perfect" zone when it comes to work (and life).
I've come to the place and understanding that there really is a Divine flow in place, and all is well, life is abundant, if we do not place limitations on ourselves!
So, with that in mind, I'm going to present a different kind of scenario for our bleak job market with a simple question.  How many friends do you know that can use some of your assistance in some way, shape, form?
In other words, is there someone you can offer your services to (even if it isn't what you went to college for), who can offer you something in return.  It may be cash (which we all like).  It may be a little cash and a barter of some sort.  Yes, we need to pay the rent, but are we doing that feeling bad for ourselves knocking on the wrong doors and losing our self-worth and confidence?
So for now, please think of 5 people that you know that you believe you can assist in some way.  Then make contact with them, invite them for a coffee or a walk, and present what it is that you think you can do.
See how they respond, see what doors open up.  Knock, Knock on the doors that may open for you, and then abundance and prosperity start to flow in…
Let me know how it goes!
Love, peace and ABUNDANCE to you,
Wendy Sue
"Life is a gift.  Enjoy the 'present' with gratitude!"
 –  Wendy Sue Noah

https://wendysuenoah.com/wp-content/uploads/2012/10/WSN-and-Martin.jpg
164
230
Wendy Sue Noah
https://wendysuenoah.com/wp-content/uploads/2013/11/logo_280.png
Wendy Sue Noah
2012-10-14 15:24:00
2014-04-29 22:39:21
Professional Opportunities are waiting for YOU!